LAST-MINUTE INFORMATION
Dear participants of CIFU XIII,
welcome to Vienna! Here you will find some information and useful links. If you still have questions, please feel free to contact us: cifu13@univie.ac.at ! Or just ask any of our team members: at least one of them will be present in each lecture room during the congress.
PARTICIPATING ONLINE
All sessions and symposia will be accessible via Zoom for all registered participants. You will receive an e-mail with a link to a password-protected info page. From this page, you will be able to access a virtual programme sheet with direct Zoom links to all sessions and symposia.
(Please do not distribute the links among third parties!)
Online listeners are kindly requested to keep their microphones muted and to use the chat function of Zoom for comments and questions.
COVID HYGIENE
At the moment, there are no COVID-related restrictions on entry into Austria from other countries.
In Vienna, covering your nose and mouth with an FFP 2 mask is required on public transportation. (Please be prepared to wear the mask already when boarding the train at the airport.) It is also mandatory in pharmacies but no more in shops, public buildings, etc.
In accordance with the COVID hygiene rules of the University of Vienna, we strongly recommend that you wear an FFP 2 mask in the lecture rooms and other indoor spaces. Please wash and sanitize your hands regularly!
GETTING THERE
From the airport of Vienna-Schwechat, you can take the CAT shuttle train (twice an hour, 16 minutes to the station Wien Mitte) or the ÖBB local train (S-Bahn, at least twice an hour). We recommend the latter: it is almost as fast, much cheaper, and the ticket will be valid for the rest of your journey on public transportation in Vienna (tram, underground, bus). There are also bus connections and taxi services at the airport.
Vienna has an excellent public transportation system: see this website (in English and in a number of other languages) for information about connections, tickets, and prices. If you are staying from Monday to Friday and using the public transportation every day, a weekly pass (€ 17.10) is probably the best option. You can buy it at a ticket machine, a tobacco shop or using the WienMobil app on your smartphone. Once you have a validated ticket, you can simply board any tram, underground or bus of the city public transportation system. Just be prepared to show your ticket if a ticket controller turns up.
The university campus is not far away (less than a kilometre) from the underground station Schottentor. Trams on the Alser Straße (43, 44) and the Spitalgasse (5, 33) stop at the corner of the campus area (tram stop Lange Gasse), trams on the Währinger Straße (37, 38, 40, 41, 42) stop at Schwarzspanierstraße, some 500 metres from the congress locations.
LOCATIONS
The campus map shows the central locations:
Welcome reception and registration

: lobby of the lecture hall C1

(Hörsaalzentrum

in courtyard 2).

Opening and closing, plenary talks

: lecture hall C1.

Symposia

and

general sessions

: lecture halls of the departments for Finno-Ugrian studies

(Finno-Ugristik),

Jewish studies (

Judaistik),

African studies

(Afrikanistik),

English and American studies

(Anglistik),

Slavic studies

(Slawistik).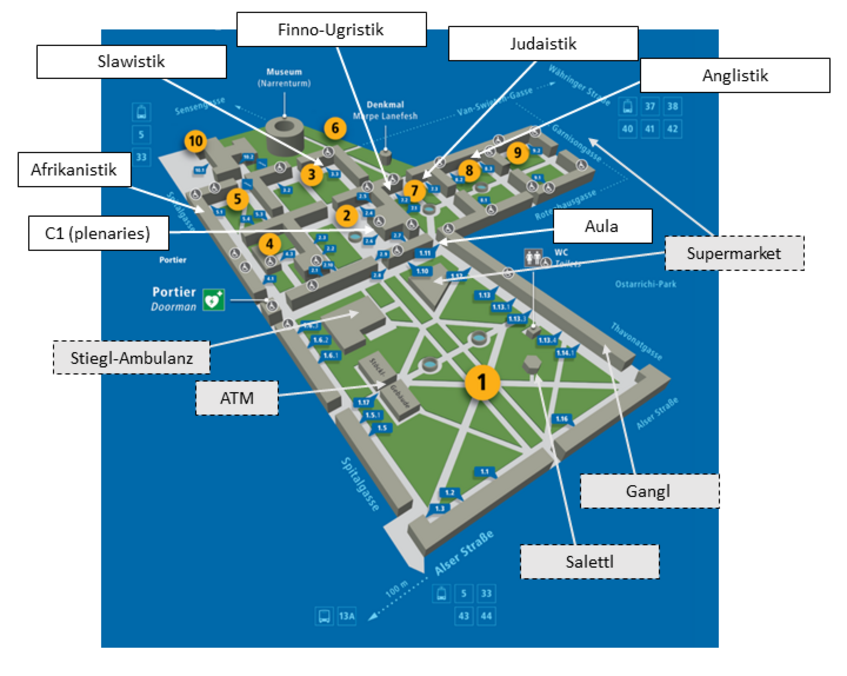 INTERNET ACCESS
You can access Internet via Wi-Fi (eduroam) everywhere on the campus.
If you have the Eduroam settings of your home university configured on your device, you should be able to automatically connect to our Eduroam (see instructions in English or German on the website of the university IT support). Alternatively, you can use the guest ID which you will find in your congress folder.
FOOD
Self-paid lunches can be reserved from the three restaurants in the campus courtyard 1 (Gangl, Salettl, Stiegl-Ambulanz). All registered participants will be sent a link to a password-protected info page from which they can access the online reservation system. The page also has links to further culinary options around the campus area.
HEURIGER RECEPTION
Those participants who have registered for the reception hosted by the City of Vienna are kindly invited to the Heuriger restaurant Fuhrgassl-Huber on Wednesday evening. This is a typical Viennese vineyard restaurant in the Vienna Woods, on the outskirts of the city. We will guide you there, using public transportation (you will need a ticket!). More information will be posted on the virtual notice board on the congress site by Wednesday morning.
EXCURSION
On Saturday, interested participants can join us on a (mostly downhill) walking tour through the scenic Viennese vineyards. We will take public transportation to the top of Kahlenberg and walk downhill towards the Danube from there, for a final (self-paid) dinner in a Heuriger.
More information on the password-protected info page.